President Rodrigo Duterte has the highest public approval and trust rating out of the four most recent chief executives, a comparison by polling firm Pulse Asia showed.
As of September 2017, Duterte got an 80 percent trust and approval rating, higher than any rating earned by his predecessors Joseph Estrada, Gloria Macapagal-Arroyo, and Benigno Aquino III.
 He is also the most trusted president upon assuming office with an initial trust rating of 91 percent in July 2016.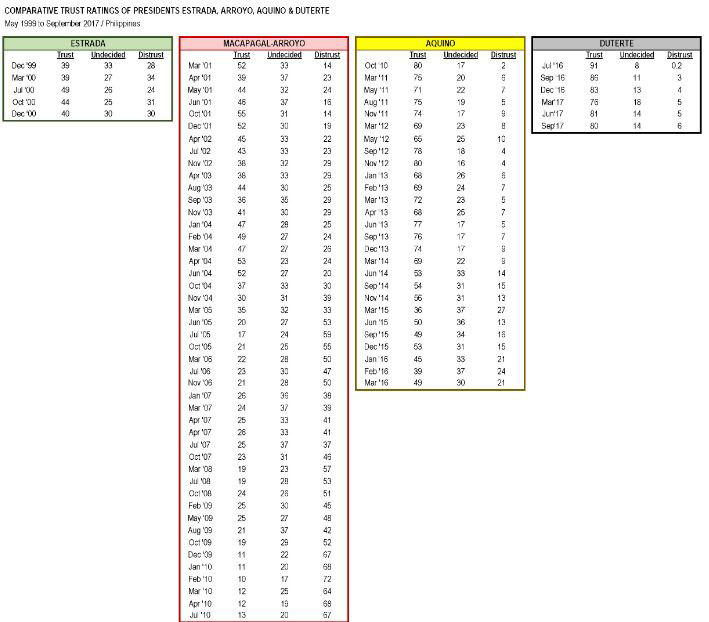 The former Davao City mayor is also the sole chief executive among the 4 to get approval ratings above 80 percent. His highest was 86 percent in September 2016, while his lowest rating was 78 percent in March of this year.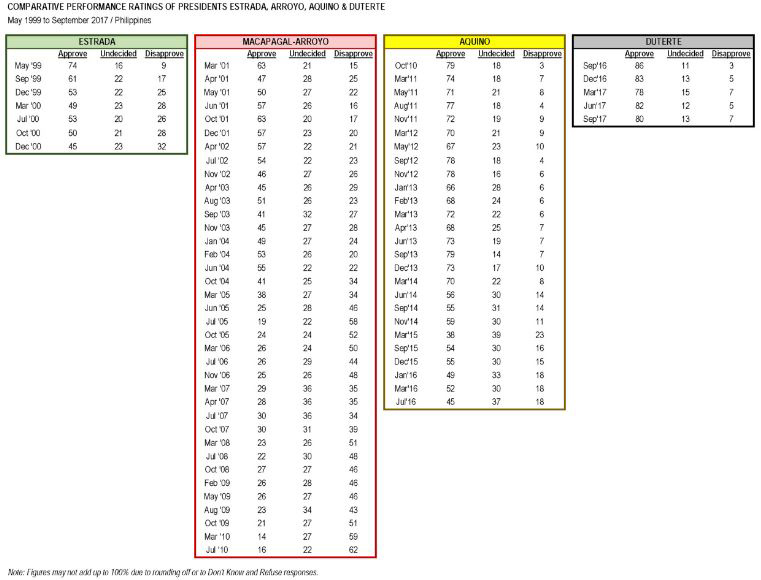 Next to Duterte, Aquino recorded the highest rating at the onset of his term with a 79 percent approval rating and an 80 percent trust rating in October 2010.
Arroyo, meanwhile, recorded the lowest trust and approval ratings among the 4 presidents with a 10 percent trust rating in February 2010 and a 14 percent approval rating in March 2010, a few months before she stepped down from office.
Both Estrada and Aquino suffered a drop in their approval ratings during the end of their terms while Arroyo left her post with a 2 percent increase, ending her term with a 16 percent rating in July 2010.
Aquino also saw a boost in his trust rating just before he left office, with 49 percent in March 2016 from 39 percent in February of the same year.
Malacañang expressed appreciation for the "people's verdict" on Duterte, saying the President is humbled by the survey results.
"The President accepts this public appreciation with all humility, but regardless of survey results, PRRD (President Rodrigo Roa Duterte) and the members of his Cabinet would continue to work and advance public interests and build, as he said in numerous occasions, a nation worthy of the Filipinos," the Palace said in a statement Friday.
Duterte, a latecomer in the May 2016 national elections, won the presidency on the promise of ending the scourge of illegal drugs and corruption in government
Comments
comments