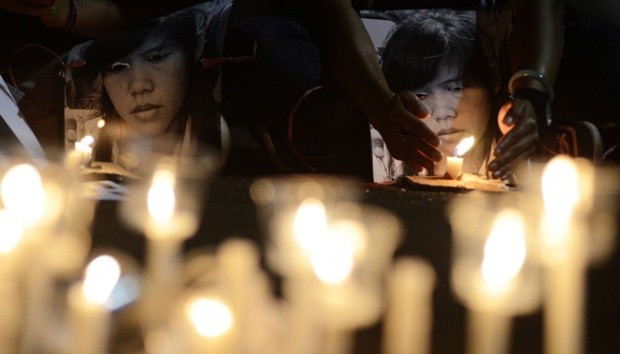 A Philippines cabinet minister has denied claims President Rodrigo Duterte gave the go-ahead for Indonesia to execute a Filipino woman who is on death row for drug trafficking.
The clarification came after Indonesia President Joko Widodo said Duterte had told him to proceed with the execution of Mary Jane Veloso.
Veloso was given an 11th-hour reprieve when she was due to be executed in April 2015 alongside Australian Bali Nine members Andrew Chan and Myuran Sukumaran after Philippine authorities requested her testimony in an ongoing legal case in her home country.
But Emmanuel Pinol, Philippines' agriculture secretary, said there was an understanding the execution had been postponed indefinitely.
"The president never agreed to execute Mary Jane," Pinol said.
"What he said was that we respect your law, we will not interfere with your judicial process but we will ask for clemency."
PRESIDENT DUTERTE'S EXACT WORDS:
"Well, I may just have to ask Widodo in a most respectful and in very, very courteous way. And if my pleadings will fall on deaf ears, I am ready to accept it – for the simple reason I do not doubt the judicial system of Indonesia.
"I have been there once upon a time, and I was able to observe how it works. Whether or not she is really guilty, she's bound to be culpable liability. So, I might just accept the system and plead for mercy."
But if President Widodo will deny it, still I would be grateful that she has been treated very well."
….Indonesian media misinterpreted our President. He didn't give a "go signal"
The Jakarta Post, citing state-owned Antara News, on Monday quoted Mr Joko as having said: "President Duterte has given the go-ahead to proceed with the execution."
MUST READ: 'No green light for Veloso death'
In a statement posted on the Indonesian cabinet secretary's website, Widodo said he had discussed the suspended execution with Duterte during his visit to Indonesia last week.
"President Duterte said at the time to go ahead with the execution," Widodo said after conducting Eid prayers in Serang, Banten province.
He said he told Duterte that Veloso had been caught carrying 2.6 kilograms of heroin when she was arrested at Yogyakarta's airport in April 2010, before being sentenced to death in October the same year.
When he arrived from his visit from Indonesia, Duterte did not give details on the discussion about Veloso's case, saying what was talked about was not for public consumption.
Both Widodo and Duterte are currently waging a war on drugs in their respective countries.
Under Widodo, who took office in 2014, Indonesia has executed 18 people convicted for drug trafficking.
MUST READ: Reported by Philstar/GMA News/ABS-CBN reported that Indonesian President Joko Widodo said Duterte has given the "go-ahead to proceed with the execution" as quoted by Antara news agency.
Migrante, a non-government group for migrant Filipinos, said Veloso's family "are in shock" and want "an immediate explanation from President Duterte and (Foreign Minister Perfecto) Yasay".
Mr Yasay was earlier quoted by the Philippine Daily Inquirer as saying Veloso had been put off death row "indefinitely".
He later explained: "This is not an urgent issue as of now. Let's finish the process. Her scheduled execution had been deferred because she would be testifying in the deposition case against her illegal recruiter."
Again, Duterte clearly said: but I will respect the Indonese law! I will appeal for clemency, That can be interpreted as a go signal…but Duterte never said "Go, execute her!"
sources: straitstimes.com/asia/  manilalive / sbs.com.au
Comments
comments