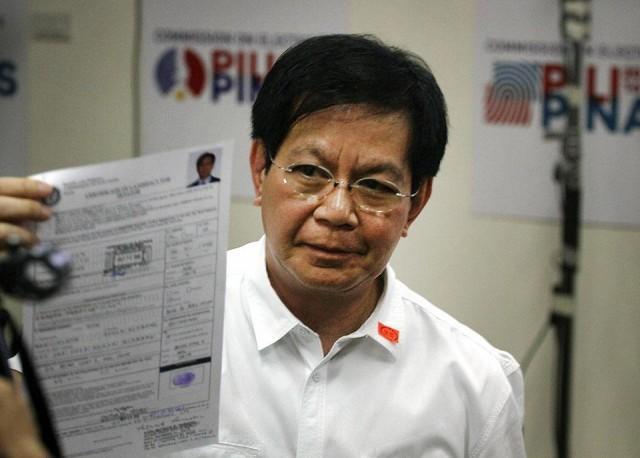 Lacson says he had info on two of five PNP generals named by Duterte
Senator Panfilo Lacson said he received information months ago on two of the five police generals who were named by President Rodrigo Duterte on Tuesday for allegedly being involved in drugs.
The five were former Philippine National Police (PNP) deputy director general Marcelo Garbo, Jr.; Vicente Loot, Bernardo Diaz, Edgardo Tinio, Joel Pagdilao.
In a text message to GMA News Online, Lacson said, "At least two of them, I have been informed earlier (during the campaign period) by former subordinates in the defunct PAOCTF (Presidential Anti-Organized Crime Task Force) who at the time were seriously involved in anti-drug operations in their area of responsibility."
However, he refused to identify the two police generals as he has not yet verified the information divulged by President Rodrigo Duterte during his speech at the 69th anniversary of the Philippine Air Force.
"I will, however, beg off to identify those two. As I said, I have not validated the information shared to me by my former subordinates," Lacson said.
"All I can say is, the commander-in-chief more than anybody in this country is in the best position to have access to all these vital and sensitive information and I have no reason to doubt or question its validity," he added.
"All I'm saying is, since the President himself mentioned those two names among the five, he must have good basis in what he divulged, specially if he had a different source of that information."
Trial by publicity?
Meanwhile, Senator Gregorio Honasan II said the police officials named by Duterte should not be subjected to trial by publicity and that investigation on the allegation should begin immediately.
"Names are immaterial basta sundin lang ang due process at rule of law at habang walang final verdict. Huwag i-subject sa trial by publicity dahil kawawa naman mga anak at pamilya na walang kinalaman," Honasan said.
Senator Juan Edgardo Angara, for his part, said the matter should be investigated "because the prospect of having high-ranking police officials in bed with the drug trade is truly, truly a horrific and frightening prospect."
Angara said this is the reason why it is important that a Magna Carta for the PNP should be enacted.
"Which is why we have been filing a bill called the Magna Carta for PNP which provides bigger allowances and benefits for our policemen, in order for them to resist possible temptations provided by illegal syndicates," he said in a text message to GMA News Online.
Senator Aquilino Pimentel III, Duterte's party mate in the Senate, lauded the President.
"Wow. Great job by the President," Pimentel said.
Senator Vicente Sotto III meanwhile, believed that Duterte must have A1 information to make a bold move of announcing the names of the generals.
ALSO READ: Know the PNP Generals who named by Pres. Duterte that Involved in Illegal Drug Trade
ALSO READ: Former Ateneo professor questions Duterte's public revelation on 5 PNP Generals
excerpt from source GMA NEWS
Comments
comments