Nagpahayag ng saloobin at depensa ang mga Duterte supporters para kay mocha uson, kung saan binanatan ang opinion ni BB. Pilipinas International Mariel De Leon,, narito ang mga opinion at bwelta ng mga netizens:
Mandy Espinosa If Mariel wants the past to be a factor, then let's bring her family's past.
His father, Christopher De Leon , was a DRUG ADDICT and very UNPROFESSIONAL. Ask Dina Bonnevie and she will share her experience with him.
Her mother, Sandy Andolong, was just a STARLET. She wasn't respected artist in the industry of showbiz. She didn't do any memorable movie.
Her cousin, the son of Pinky De Leon, is a convicted man involved in Visconde Massacre and rape. How is that for a background?
Except for having a sexy image, Mocha doesn't have those involvement in drugs, rape, homicide, etc. Mariel should be ashamed for carrying those baggage.
Nowadays, when Mariel guests in show, she would be asked to sing opera. She would gladly give the audience a sample of her talent. I can say she is NOT EXCELLENT Opera singer. She is just a mediocre. No wonder she didn't win the BEST IN TALENT.
Regarding intelligence, remember she was asked, "What field do women excel more than men?" Mariel answered "In boxing. Because I box better than men."
Really? How many women are there in boxing? Is there any woman better than Pacquiao, Mayweather, Tyson, Ali, etc?
Should we talk and analyze further about your intelligence? Even your physical beauty should be questioned. How much RETOKE? Remember we saw you in 2013 and, boy, you look different.
---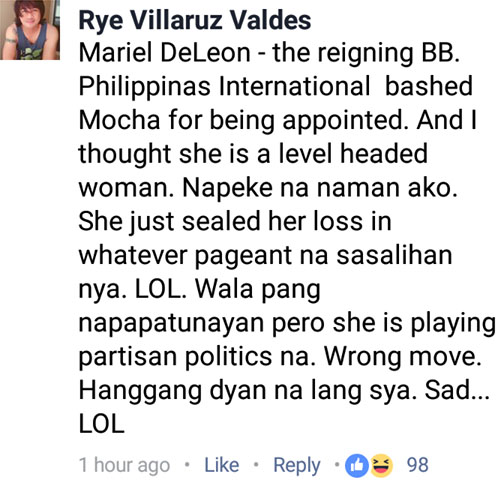 Hindi masama ang isang opinion depende kapag destructive or constructive…
@mariaangelicadl U r not as "respectful" as you think u r. U lost your virginity to your family driver Mang Efren diba age 14? Ewww! #Tae

— Arthur Garcy (@arthur_garcy) 11 de mayo de 2017
Comments
comments