Abu Sayyaf kills 2 soldiers; AFP wants to wipe out terror group in 6 months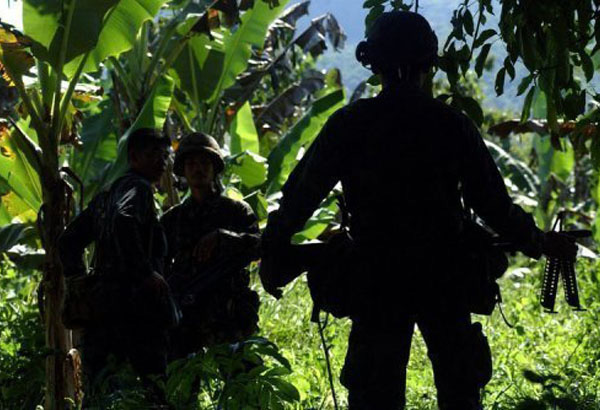 MANILA – The Abu Sayyaf Group (ASG) killed two more soldiers in an ambush Sunday morning in Basilan, as the military put the finishing touches on a operational plan meant to wipe out in six months the terrorist group blamed for dozens of abductions and killings, including beheadings of foreign captives.
A report from the Armed Forces of the Philippines' Western Mindanao Command (Westmincom) said the slain soldiers were riding in tandem in Barangay Tumahubong in Sumisip town, when attacked at around 10:25 a.m.
The died instantly from multiple gunshot wounds, according to Major Filemon Tan, military public affairs officer.
The slain soldiers were not named pending notification of their families. Tan only identified them as members of the Army's Alpha Company of the 64th Infantry Battalion.
The soldiers were returning from a logistics run from Barangay Tumahubong to their command post in Barangay Sapah Bulak when a band of Abu Sayyaf ambushed them, Tan said.
Oplan to wipe out ASG
Meanwhile, the incoming AFP chief said a "drastic shift of operational plan" will be carried out against the ASG, with a view to  neutralizing the dreaded terrorist group in half a year.
Lieutenant General Ricardo Visaya, now the Southern Luzon Command (SOLCOM) chief, said in an interview the oplan is "now being prepared. Definitely, we will implement an operational plan that aims to eliminate the ASG problem in 6 months."
He declined to provide details of the Oplan, citing only the need to field more troops in the Sulu-Basilan area, even as he acknowledged, "we've a lot of troops already there."
Once the new operational plan is put in place, he said, "dito na magkakasubukan [this is where the real reckoning comes]."
Seven battalions or more than two brigades have been deployed in Sulu and almost the same number of soldiers deployed in Basilan to hunt the ASG.
Less than a dozen captives are held by the ASG in Sulu. They include foreigners like Canadian Robert Hall and Norwegian Kjartan Sekkingstad; as well as Hall's Filipino girlfriend Marites Flor.
Another Canadian, John Ridsdel, was also beheaded by the ASG in April, after his family failed to deliver ransom of P300 million. The bandits have set another deadline of June 13, vowing to behead another captive if the P300 million each sought for Hall and Sekkingstad is not delivered to them.
President-elect Rodrigo Duterte has repeatedly called on the Abu Sayyaf to surrender in his press conferences, or else, "I will invade Jolo".
source: interaksyon
Comments
comments